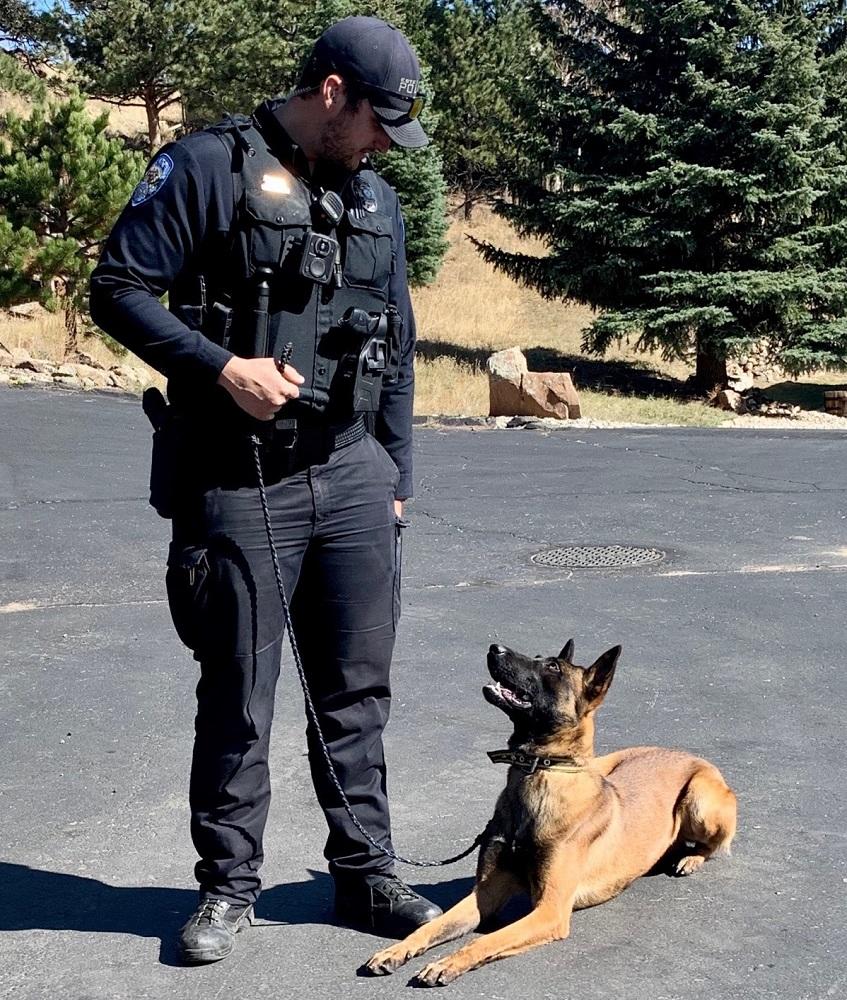 Community Support Has Fully Funded Start Up Costs for K9 Program
By: Police Chief Wes Kufeld
On behalf of the Estes Park Police Department, I am excited to announce that we have reached our fundraising goal for our first-ever K9 unit. We want to wholeheartedly thank everyone in the community who has donated and voiced their support. We look forward to serving our community with this valuable resource. We reached out to our community and they responded with extraordinary assistance, fully funding the startup costs, and we are no longer accepting donations. 
Diego, a 14-month-old Belgian Malinios, was handpicked by a seven-member ream consisting of a trainer, veterinarian, handlers and decoys. He and Officer Mikel Otazua are about to begin a 16-week training academy, where they will work together to learn drug detection, tracking and additional K9/Office safety measures. Watch for updates on our Facebook and new "EstesParkPD" Instagram page. 
Funding for the program has covered the costs of Diego himself, a specialized K9 vehicle which includes an interior kennel with climate control and temperature alarms, a home living space/kennel, protective gear and training equipment. 
One of the reasons this community is so incredible is because of a strong community desire to partner with the police department and become actively involved in public safety. The push to fund this program is only one example. The community, along with the Town Board, pulled together to make this program a reality.
We look forward to introducing you to Diego at community events in the future, as our newest member of your Estes Park Police Department. For more information, or to schedule an officer presentation on the K9 program, please contact Captain Eric Rose at erose@estes.org or 970-577-3827.
Estes Park Police Department Chief Wes Kufeld announced the recruitment of the department's newest member -- K9 Diego, a Belgian Malinois. Diego joins Officer Handler Mikel Otazua to serve as Estes Park's first K9 team. Diego was named at birth, in Holland in May of 2018. He received basic training in Florida. 
Chief Kufeld noted, "This is an exciting time for our community and agency, and we couldn't have done this without community support." He added, " We're looking forward to introducing Diego to the community at a welcome reception in late October, tentatively."
Officer Otazua, his supervising Sergeant, Mark Swallow, along with Loveland Sergeant and K9 trainer Steve Colburn, Loveland Officer/Handler Stephan Marchio and Veterinarian Dr. Mike Green, visited numerous kennels and selected Diego as the best fit for Estes Park. The process includes testing for personality, temperament, stamina and agility, and a rigorous veterinary exam. 
Officer Otazua commented, "Diego was our top choice. Together, we cannot wait to embark on this new journey and to serve the Estes Valley." As handler and K9, the pair begin with a month of bonding time, followed by rigorous K9/handler training. Otazua noted that his lifelong dream of being a K9 handler was made possible by encouragement from the community, the department, and his family and friends. 
To learn more, please contact Captain Eric Rose at 970-577-3827.
By: Police Chief Wes Kufeld
A K9 is a highly specialized dog with intensive police training, which enhances our efforts to keep residents and visitors safe. As we roll out this program in support of public safety, we asked for community assistance to fund the program.
The staff of the Police Department are faced with new societal pressures every day, so we must stay proactive and remain ahead of the criminal element to protect our community. A K9 is an incredible asset to enhance the capabilities of our patrol officers. In fact, K9 enhanced skills can alert officers to potential hazards, which could save an officer's life someday.  K9s are multi-tasking units within a police force, consisting of the dog and its handler. Their tasks include locating fleeing criminals, missing persons, illegal and hidden drugs, miscellaneous evidence, weapons and stolen property. The unit may be called to search for people, explosives, drugs, or all three at once. Special event patrols are a valuable K9 duty, since large gatherings present heightened safety concerns.
Today's K9s know the difference between work and play. When not working on a specific task, they are approachable, friendly and affectionate. This flexibility will allow us to offer more opportunities for community engagement and education. Most people can relate to having a dog as a partner, friend and family member – so people of all ages will find K9 demonstrations fun and interesting. These demonstrations can be requested by the public and will help us to foster goodwill and community partnerships.
Estes Park's K9 unit will be cross-trained so they can provide maximum benefit to the community. The K9 handler receives hundreds of hours of initial training before they, along with the trained K9, can be certified and placed in service to perform their daily duties. Additionally, K9s participate in ongoing education and training on an almost weekly basis to remain current and maintain their certifications. K9 units spend their days on patrol, assisting in calls for service and traffic contacts. A K9 and handler become partners to protect each other in hazardous situations.  
Our assigned Officer, Mikel Otazua, began his K9 handler training in April, and we recruited K9 Diego in September. The costs to develop this program were considerable, although the return on investment to the community includes many long-term benefits for our community's safety. Tax-deductible donations funded everything from dog food and toys, to veterinary care, to the dog's vest and badge, to K9 unit training, to the custom-built kennel the dog lives in at his handler's home. 
For more information, or to schedule an officer presentation on the K9 program, please call Captain Eric Rose at 970-577-3827.