Relationships form the heart of community.
 
When those relationships are based on respect and understanding, everyone benefits. 
 
Estes Valley Restorative Justice Partnership (EVRJP) helps build and repair relationships -- whether working to repair the harm of a crime, bringing parties together to work out sustainable solutions, or providing proactive support to build community connections and promote positive decision-making.
 
EVRJP is building and restoring community one relationship at a time.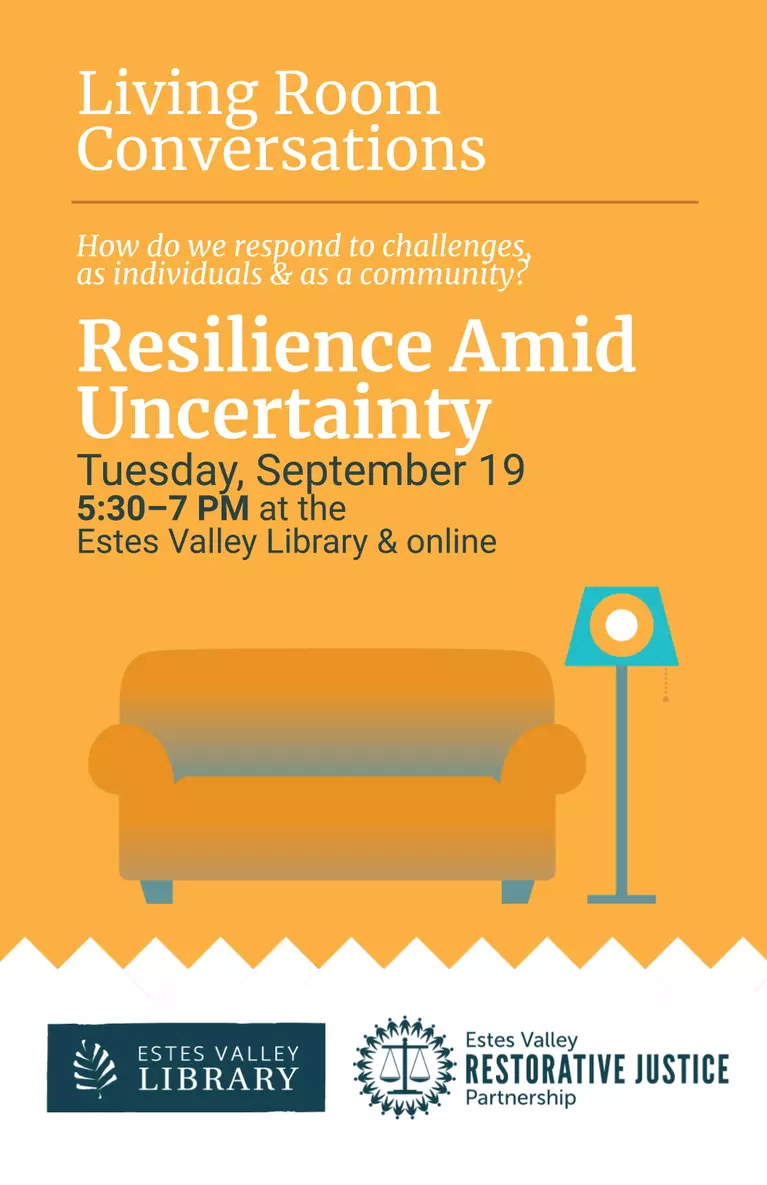 Join us for a Community Conversation:
Resilience Amid Uncertainty
September is National Preparedness Month. Join Estes Valley Restorative Justice Partnership and the Estes Valley Library for a conversation on Resilience Amid Uncertainty on September 19, from 5:30 p.m. to 7 p.m., in person at the Estes Valley Library and virtually on Zoom.
It is an understatement to say that the past few years have been marked by uncertainty. We have lived through a pandemic, economic impacts, social unrest, a contentious election and post-election season, wildfires, and more. And ahead of us lies yet more uncertainty. The lack of predictability in our lives can lead to ambiguity, confusion, and difficulty in making informed decisions, all of which can be stressful. Resilience – the ability to withstand and adapt to challenges, shocks, disruptions, and uncertainties – plays a critical role in navigating these challenging times. 
This conversation provides an opportunity to discuss how we are living with uncertainty, and finding (or not finding) resilience, as individuals, in our families, and as a community. Registration is required.
Learn more and sign up to attend in-person; learn more and register to attend on Zoom.
Celebrate 20 Years at Restorative Justice Community BBQ
Estes Valley Restorative Justice Partnership (EVRJP) is celebrating 20 years of service to the community. Join us for a free community BBQ on Saturday, September 30 from 11 a.m. to 1:30 p.m. at the Stanley Park Osprey pavilion. All are welcome. In addition to fun games and activities, free hamburgers, hotdogs, chips and cookies will be provided. We hope to see you there!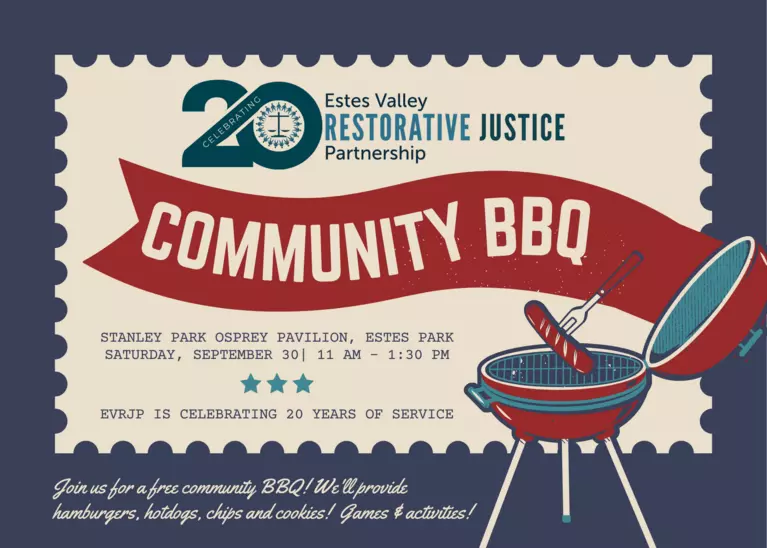 /sites/estespark/files/styles/flexslider_full/public/images/ep_test_hero_image_0.png
/sites/estespark/files/styles/flexslider_full/public/solid_blue_background_0.jpg
Mission

We believe that a restorative community is a better community.

We facilitate proactive and responsive processes that enhance cooperation, encourage understanding, and strengthen relationships. EVRJP is building and restoring community one relationship at a time.

 

A culture of inclusivity. 

When people feel respected, valued, and that they belong, we grow ourselves and our community. Providing brave spaces that elevate diverse perspectives helps us engage in difficult conversations, bridge understanding, honor needs and find mutually beneficial resolutions.  

History

Estes Valley Restorative Justice Partnership (EVRJP) is a unique alliance formed in 2002 between the Estes Valley community and Estes Park Police Department. The vision of this partnership was to invite the community to join with the Estes Park Police Department in providing restorative justice services to the Estes Valley. While initially formed to assist in dealing with juvenile crime, EVRJP has grown to offer proactive and responsive programs for youth and adults that bring the community together to resolve issues and build solutions. Each EVRJP process is based on the restorative principles of relationship, respect, responsibility, repair, reconciliation and reintegration. At the core is an approach to problem solving that is inclusive, fosters open dialogue, encourages accountability and provides an opportunity for parties to build meaningful resolutions. EVRJP processes reduce the number of repeat offenders, strengthen the community, increase safety and promote active citizenship through a variety of volunteer roles.

Donate

Estes Valley Restorative Justice Partnership (EVRJP) is a hybrid municipal/nonprofit organization that is recognized as tax-exempt by the IRS under Section 501(c)(3). This partnership enables EVRJP to provide restorative justice services to the Estes Valley. It also assists in providing professional development opportunities, mental health service, new program development, initial and ongoing volunteer training, special events and more. All donations are tax-deductible to the full extent of the law.

Meet the Staff

Denise Lord - Restorative Justice Manager & Executive Director of Estes Valley Restorative Justice Partnership

Denise Lord is the Restorative Justice Manager and Executive Director of Estes Valley Restorative Justice Partnership (EVRJP). Her involvement in restorative justice began in 2007 through her work with Eagle Rock School & Professional Development Center, where she facilitated community group conferences, circles and mediation; trained students and staff in restorative practices; and coordinated the school's restorative justice program. In 2015, Denise took on the role of Program Coordinator with Estes Valley Restorative Justice Partnership. After five years with the organization, she stepped into the Manager and Executive Director role that she continues to hold today.

Denise serves on the 8th Judicial District Juvenile Service Planning Committee, is a Board Member of the Colorado Coalition for Restorative Justice Practices and holds a seat on the Colorado State Restorative Justice Council. She has a degree in International and Area Studies and Spanish Language and Literature, held a Colorado K-12 teaching credential and is a trained mediator. She has worked in varying capacities with youth and adult populations in education and restorative practices.

 

 

Becky Weller - Restorative Justice Program Coordinator

Becky joined the Estes Park community in 2005, first serving as an outdoor education instructor and facilitator at the YMCA of the Rockies. During her time at the YMCA she also worked as the Assistant Youth Program Coordinator and eventually went on to become the General Manager for Poppy's Pizza and Grill. She then joined the Estes Park Police Department in 2017 as an Emergency Services Dispatcher and is a member of the department's Peer Support team. Becky is excited for the opportunity to continue serving the community by combining her knowledge of criminal justice with her previous experience in facilitation and management within the scope of her role as Restorative Justice Program Coordinator. Becky is originally from Saranac Lake in the Adirondack Mountains of upstate New York and holds a Bachelor's degree in English Studies with a Minor in Film from the University of Albany. In her free time, she enjoys hiking, skiing, traveling, photography and spending quality time with close friends and family.

Board of Directors

Estes Valley Restorative Justice Partnership is a hybrid municipal/nonprofit organization. The 501(c)(3) board of directors provides insight and support for program development, strategic planning and fundraising, and consists of the following individuals:

Abby Whipple (Vice-Chair)

David Cordes

Diana David Brown

Jim Carr (Treasurer)

Kasi Irwin 

Mary Barron (Secretary)

Mike Garcia (Chair)

Rick Life (Ex-officio)

Rob Pieper

Contact Information

Physical Address:
170 McGregor Ave., Suite 204
Estes Park, CO 80517


Mailing Address:
P.O. Box 1287
Estes Park, CO 80517


Conflict Resolution Line: 970-577-3845

Restorative Justice Manager: 970-577-3829

Restorative Justice Program Coordinator: 970-577-3818

Email: RestorativeJustice@estes.org