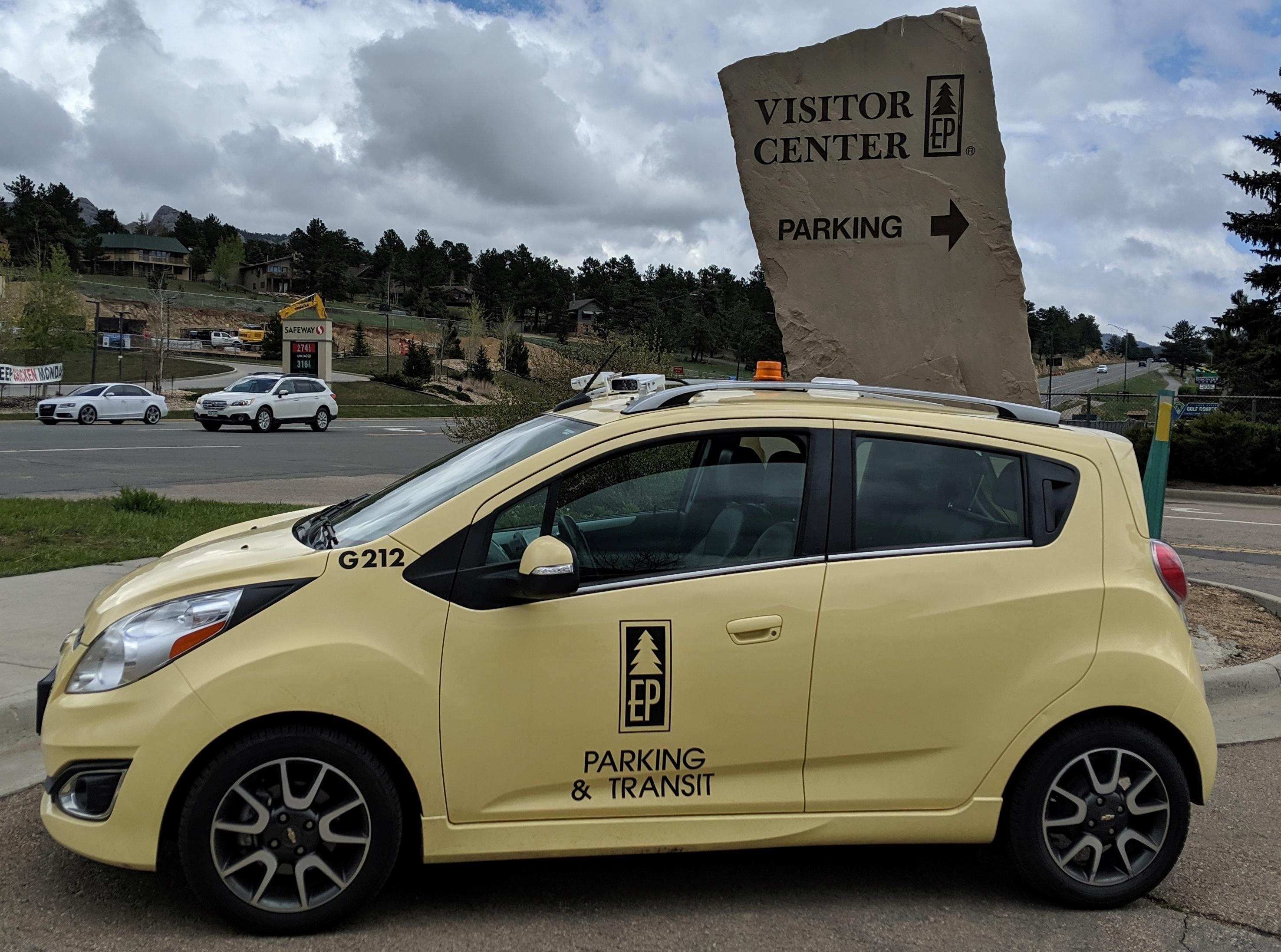 The Town of Estes Park strives to provide a variety of public parking and transportation options to meet the needs of locals and visitors. 
Please check out the Estes Parking App -- real-time parking availability at your fingertips! You can download it from Google Play or on the App Store on your iPhone. 
I Want To:
Pay a Parking Citation

The fines for parking citations will remain at the rates used for the 2019 enforcement season. The Town is now offering the ability for online payment of parking citations, and will continue to offer a discount to encourage timely payment of citations. If a citation is paid within seven days of issuance, the citation fine will be reduced from $25 to $15. The reduction does not apply to citations issued for violations pertaining to spaces reserved for persons with disabilities.

There are two ways to pay a parking citation:

Deposit fine amount in the envelope that accompanied the citation. Affix postage and mail to: The Car Park, PO Box 2285, Estes Park, CO 80517. Checks can be made out to The Car Park. Please do NOT mail cash.
Pay online.

If you wish to dispute a citation, or think you have received a citation in error, please contact The Car Park at 970-591-2577 or online (enter violation information and click "Appeal" on the following screen).

Park a Car, Truck or SUV

The Town offers free all-day, three-hour and 30-minute parking in lots, on-street and in the Town's parking structure.

Time-limited parking is enforced between the hours of 8:00 AM and 5:00 PM in the following lots and on-street locations:

Town Hall Lot
East Riverside Lot
Riverside Lot
West Riverside Lot
Post Office Lot
Moraine Avenue On-Street
Virginia Lot
Brownfield's Lot
On-Street Parking around Bond Park
Visitor Center

Lots are identified by name on the Downtown Parking Map.

The Town's public parking areas will be enforced from June 1 through October 18, 2020.

Overnight parking is allowed by permit only and is monitored by the Estes Park Police Department.

Learn more about the Town's use of parking technology, including data collection, usage and retention.

Park an RV, Trailer or Bus

Parking for larger vehicles is available at the following locations:

Events Complex Park-n-Ride: 1125 Rooftop Way (20 spaces)
Town Hall/Library Parking Lot: 335 E. Elkhorn Avenue (10 spaces)
Estes Park Visitor Center: 500 Big Thompson Avenue (4 spaces)

Tour Bus Drivers: A driver's lounge is available at the Visitor Center for all commercially-operated tour bus drivers. Please call the Estes Park Visitor Center at 970-577-9900 for more information about lounge hours and amenities.

Charge an Electric Vehicle

The Parking & Transit Division, in partnership with Estes Park Power & Communications, is proud to provide several Electric Vehicle (EV) charging stations around downtown Estes Park. Charging station locations, instructions and use instructions can be found here.

Ride the Town's Free Shuttle

Estes Transit operates a free shuttle service during the peak summer tourism season and for several Town-produced special events annually. While Estes Transit service for 2020 concluded on October 18, information about the 2021 schedule will be posted in early 2021. Visit Estes Transit for more information about routes and service times.
2020 Parking Permits
2020 Permits are ready for renewal or purchase.
2020 Parking Permit Application (separate application not needed if applying online)
Employee Permit: Convenience Pass

Overnight Permit: Downtown Resident

Overnight Permit: Downtown Rental Unit / Commercial Lodging

Overnight Permit: General Use
Feedback is important to our team, so comments and suggested improvements are welcomed online, by phone at 970-591-2577, or by email to epinfo@thecarpark.com.
Electric Vehicle Infrastructure & Readiness Plan
About this Project
In June 2020, the Town of Estes Park began work on an Electric Vehicle Infrastructure and Readiness Plan (EV Plan). The Estes Park EV Plan will explore several vehicle classes including electric bicycles (e-bikes), electric passenger vehicles, the Town's fleet, as well as local transit.
The key goals of this effort are to:
Guide the community in making strategic decisions over the next ten years as it relates to transportation electrification.
Develop a strategy to support electric vehicle owners, local residents and visitors.
Maximize the Town's existing investment in EV charging infrastructure and the new grant-funded electric trolley.
This effort, coupled with the 100 percent renewable energy generation set by Platte River Power Authority, provides an opportunity to make a measurable change in Estes Valley's air quality and environmental stewardship.
Several opportunities for stakeholder input will be offered during the planning process, which will wrap up in late November.
Take a quick poll [link]
Test your knowledge with our Electric Vehicle Quiz [link]
Check back for more information including resources and frequently asked questions
Get in touch with Town staff about this project (contact information below)
About the Funding and Support
This project is supported with funds from the Colorado Department of Local Affairs (DOLA) and the Colorado Energy Office (CEO). Town staff are being supported in this effort by two Denver-based consultancies, S.R.D. Consulting and Brendle Group, and in partnership with the Town's Transportation Advisory Board (TAB). 
For more information about this project, please contact Christy, Public Works Department at ccrosser@estes.org, 970-577-3574.