As part of the Town of Estes Park's Mobility Services, Estes Transit operates free, daily shuttle service during the peak summer tourism season and limited weekly service in late fall and early winter. The Winter Shuttle Service concluded on January 1, 2023. Event transit service is also provided throughout the year for several Town-produced special events. Schedule information for seasonal and special event service is featured under the Shuttle Services Menu below.
To simplify your overall parking and transit experience in Estes Park during the busiest season (between Memorial Day and mid-October), watch the brief Parking & Shuttle Service video.
Rocky Mountain National Park (RMNP) manages transit service to and within the Park, including the Bear Lake, Moraine Park and Hiker shuttles. For more information on RMNP's transit service offerings, please visit the RMNP website.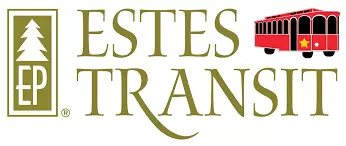 2023 Special Event Service

Estes Transit is pleased to provide free shuttle service for the 2023 Town-produced special events featured below. One week prior to each event, a link will be provided to access service times, routing, and stops.

Frozen Dead Guy Days | March 17-19

Big Foot Days | April 15 

Wool Market | June 10-11

Independence Day Fireworks (post-event service) | July 4

Scot Fest Parade | September 9-10

Fine Arts & Crafts | September (date pending)

Autumn Gold | September (date pending)

Elk Fest | September 30-October 1

Rocky Mountain Craft Spirits Fest | November 4

Tree Lighting Ceremony | November 18

Catch the Glow Parade | November 24

2023 Summer Shuttle Service

Estes Transit's Summer Shuttle Service, featuring a variety of daily routes, runs from Memorial Day weekend through mid-October. The 2023 schedule will be available here in early March 2023.
The Town's free parking structure is conveniently located near the intersection of US Hwy 34 and US Hwy 36 (691 North St. Vrain Ave.). This location is just across the river from the Estes Park Visitor Center, only a few blocks from downtown.
The parking structure has 415 parking spaces on four levels, including accessible spaces and electric vehicle charging stations. Downtown is an easy five-minute walk through a decorated and lighted tunnel under the road.
Overflow parking is available at the Estes Park Events Complex (1125 Manford Ave.).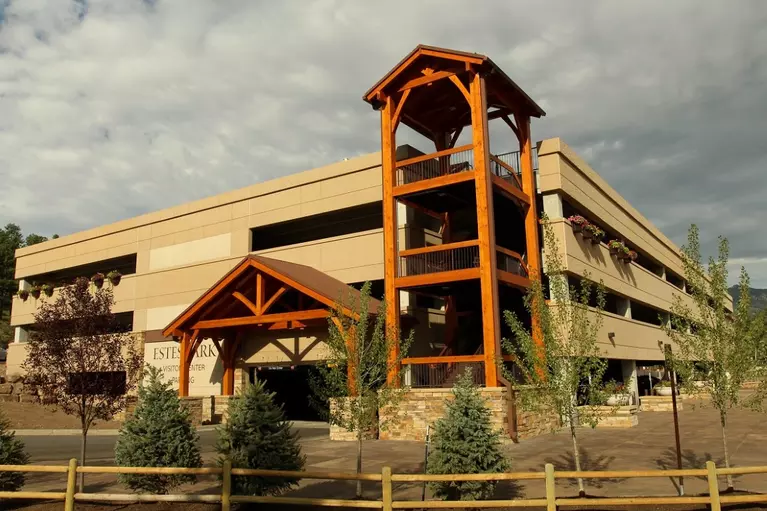 Other Requests & Information
Services for Seniors & Persons with Disabilities

Via Mobility offers year-round transportation service within the Town limits of Estes Park weekdays, 8:00 a.m. to 4:30 p.m. Rides can be scheduled one to seven days in advance. Rides are based on availability and are first-come, first-served.

Riders under 60 years old: $5 each way or $10 round-trip Riders over 60 years old (Seniors): Free

To schedule a ride, please call Via Mobility at 303-447-9636. More information about Via Mobility can be found at www.viacolorado.org.

Persons with disabilities: Free

Route Deviation Requests

The Town of Estes Park has designed its seasonal public transportation service, Estes Transit, to allow for route deviation requests in order to ensure that all individuals have equal access to public transportation. Route deviation requests can be made on all six of the Town's routes: Red, Gold, Blue, Brown, Silver and Green.

Anyone can request a route deviation; requests may be scheduled by calling 970-577-3959. If you need a route deviation to be picked up, you must call and request the ride at least 24 hours in advance of your requested pick-up time. Riders who need a route deviation when dropped off are allowed to request a deviation from the driver when boarding the bus.

Route deviation requests are limited to a maximum 3/4 mile from the established route. Please reference the Route Deviation Service Area Map for more detail. No fee will be charged for this service.

Route deviation requests that could result in damage to the vehicle and/or compromise the safety of the driver and/or other passengers will not be accepted.
Statement of Rights

In accordance with the provisions of the Americans with Disabilities Act and the Civil Rights Act of 1964, Estes Transit does not discriminate on the basis of disability, race, color, national origin, or gender. For more information about these statutes, or to file a complaint, contact the Town's ADA Coordinator at adacoordinator@estes.org.

Title VI Town of Estes Park Program Plan

Title VI Non-Discrimination Notice

Reasonable Modification

The Town of Estes Park will make all reasonable modifications to policies and programs to ensure that people with disabilities have an equal opportunity to enjoy all of its programs, services, and activities. For example, individuals with service animals are welcomed in the Town of Estes Park offices, even where pets are generally prohibited.

Any qualified individual who requires an auxiliary aid or service for effective communication, or a modification of policies or procedures to participate in a program, service, or activity of the Town of Estes Park, should contact the ADA Coordinator, 170 MacGregor Ave., PO Box 1200, Estes Park, CO 80517; by email to adacoordinator@estes.org. Contact should be made as soon as possible but no later than 48 hours before the scheduled event.

The ADA does not require the Town of Estes Park to take any action that would fundamentally alter the nature of its programs or services, or impose an undue financial or administrative burden.