Estes Transit operates free, daily shuttle service during the peak summer tourism season, limited weekly service during the winter months and serves several Town-produced special events annually. Rocky Mountain National Park (RMNP) manages transit service to and within the Park, including the Bear Lake, Moraine Park and Hiker shuttle. For more information on RMNP's transit service offerings, please visit the RMNP website.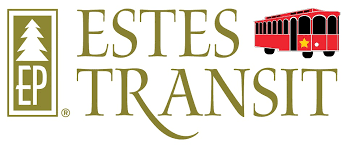 2021-2022 Winter Transportation Options
Estes Transit and Via Mobility Services are partnering to promote their complementary winter transportation service offerings in Estes Park. Between Via's weekday, on-demand service and the Town's weekend Winter Trolley Service, there will be a free transportation option – available for locals and visitors – seven days per week.
Each week, Estes Transit will serve a fixed route of stops in the downtown area from Noon to 6 p.m. on Fridays, 10 a.m. to 6 p.m. on Saturdays and Noon to 6 p.m. on Sundays. A complete listing of stops can be found here.
The Town's service will complement Via's regular on-demand service, door-through-door service from any origin to any destination within the Town of Estes Park and some portions of surrounding Larimer County. Via's service is available Monday through Friday from 8 a.m. to 4:30 p.m. and rides can be scheduled 1-7 days in advance by calling 303-447-9636. Some limited same-day scheduling is available.
Both Estes Transit and Via are fare-free and can accommodate wheelchairs.
Per Federal Transit Administration (FTA) order, face coverings are required on board both Estes Transit and Via vehicles for passengers and drivers, including children over the age of two.
Information about the Town's 2022 Summer Service will be shared in March.
la información en español se publicará pronto
The Town's free parking structure is located near the intersection of US Hwy 34 and US Hwy 36 (691 N. St. Vrain Avenue) across the river from the Estes Park Visitor Center, only a few blocks from downtown.
The parking structure has 415 parking spaces on four levels, including accessible spaces and electric vehicle charging stations. Downtown is an easy five-minute walk through a decorated and lighted tunnel under the road.
Overflow parking is available at the Estes Park Events Complex (1125 Manford Ave.).