Estes Transit operates a free shuttle service during the peak summer tourism season and for several Town-produced special events annually. Estes Transit wants to hear from residents and visitors about their experience with Estes Transit and welcomes feedback regarding the Town's free shuttle service. Rocky Mountain National Park (RMNP) manages the Bear Lake Route and Moraine Park shuttle routes. For more information on service within RMNP, please visit the RMNP website.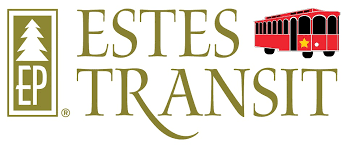 2021 Seasonal Shuttle Information
Estes Transit began its 2021 summer season on Friday, May 28 with the Red, Gold, Blue, Silver and Brown Routes all serving from 9 a.m. to 9 p.m. daily.
The Green Express Route providing weekend only service.
All routes will run through Sunday, September 12 except the Red Route (downtown trolley), which will run through Sunday, October 18.
This link provides full details on the 2021 Seasonal Summer Service.
Special event service planned for 2021 includes:
Autumn Gold and Rails in the Rockies (Sept. 25-26)
Catch the Glow (Nov. 26)
Bustang to Estes
Bustang is back! Bustang to Estes will provide Saturday and Sunday service through Elk Fest (Sunday, October 3). Bustang will originate at Denver Union Station with stops in Boulder and Lyons before reaching Estes Park. For more information and ticketing please visit the Bustang website. Bustang service is provided by the Colorado Department of Transportation.
Información sobre el servicio de traslado estacional de 2021
El sistema de trasporte gratuito de la ciudad, Estes Transit, tambien comenzara parte de su servicio de temporada el viernes 28 de mayo. La Rute Roja, Dorada, Azul, Plata y Marron, todas sirviendo de 9 a.m. a 9 p.m. todos los dias. La Ruta Green Express que ofrece servicio solo de fin de semana. Toas las rutas se extenderan hasta el domingo 12 de septiembre, excepto la Ruta Roja (tranvia del centro), que se extendera hasta el domingo 18 de octubre.
Este enlace proporciona todos los detalles sobre el Servicio estacional de verano 2021.
El servicio de eventos especiales previsto para 2021 incluye:
Autumn Gold and Rails in the Rockies (25-26 de septiembre)
ScotFest (10-12 de septiembre)
Catch the Glow (26 de noviembre)
Las rutas restantes de Estes Transit (Oro, Azul, Marron y Plata) comenzaran el servicio diario el 1 de julio y la ruta Verde (Express) comenzara el servicio solo el fin de samana el 3 de julio. Bustang tambien regresara a Estes Park el 3 de julio y Brindar servicio solo los fines de semana a traves de Elk Fest. Bustand se originara en Denver Union Station con paradas en Boulder y Lyons antes de llegar a Estes Park. En las proximas semanas se anunciaran mas detalles sobre el servicio de Bustang a Estes 2021 y los boletos deberian estar disponibles en el sitio web de Bustang a principios de junio (https://ridebustang.com).
Estes Transit is supported by the generosity of our 2021 sponsors:
Good Samaritan Estes Park Village
American Legion Post 119
Estes Chamber of Commerce
Rocky Mountain Channel app
SereniTea
Cocina de Mama
Bank of Estes Park
First Colorado Realty
Visit Estes Park
Estes Park Trolleys
Hunter's Chophouse
Pepper's Mexican Grill
Quality Inn
REMAX - The Gomez Team
Rocky Mountain Gateway
The Barrell
The Maxwell Inn
WinterWorks  & Awesome ShirtWorks
Hands Down Best in Town Massage
Estes Park Rentals
Tour Estes Park
Sponsors help fund operational costs related to services offered by the Town's free shuttles, supporting the continuation of free shuttle rides for guests and residents annually in the Estes Valley.
The Town's free parking structure is located near the intersection of US Hwy 34 and US Hwy 36 (691 N. St. Vrain Avenue) across the river from the Estes Park Visitor Center, only a few blocks from downtown.
The parking structure has 415 parking spaces on four levels, including accessible spaces and electric vehicle charging stations. Downtown is an easy five-minute walk through a decorated and lighted tunnel under the road, or via the Town's charming electric trolley which runs every 20 minutes daily from 9 a.m. to 9 p.m. during the peak summer season (May 28 - Oct. 17, 2021)..
Overflow parking is available at the Estes Park Events Complex (1125 Manford Ave.). From July 3 - Sept. 12, 2021, the free Green "Express" Route will provide service from the Events Complex to the Visitor Center and downtown (Bond Park) every 15 minutes from 11 a.m. to 4 p.m. each weekend day (Sat. and Sun. only).