Estes Transit operates a free shuttle service during the peak summer tourism season and for several Town-produced special events annually. Estes Transit wants to hear from residents and visitors about their experience with Estes Transit and welcomes feedback regarding the Town's free shuttle service.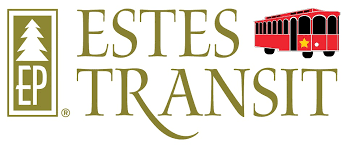 2020/2021 Seasonal Shuttle Information
Estes Transit lanzará un Servicio de Transporte de Invierno Piloto el 18 de noviembre
2020-2021 Winter Service Information
Beginning November 18, Estes Transit will provide weekly transportation service from 2-5 p.m. each Wednesday. This new service is completely free and available for passengers of all ages and abilities. Reservations are not required and the trolley is fully equipped with a wheelchair lift. The new service is will run each Wednesday through May 26, 2021, serving the following fixed route of stops. 
Stops and Departure Times

Please click on the name of each stop for an image of the stop location

| | |
| --- | --- |
| STOP | DEPARTURE TIME |
| Talons Pointe/Falcon Ridge | 2:00, 3:00, 4:00 p.m. |
| Salud Family Health Center | 1:01, 3:01, 4:01 p.m. |
| Crossroads Ministry | 2:02, 3:02, 4:02 p.m. |
| Lower Stanley Village @ Reel Mountain Theater | 2:08, 3:08, 4:08 p.m. |
| Estes Park Health | 2:15, 3:15, 4:15 p.m. |
| Dollar General | 2:17, 3:17, 4:17 p.m. |
| The Pines Apartments | 2:21, 3:21, 4:21 p.m. |
| Estes Valley Community Center | 2:26, 3:26, 4:26 p.m. |
| Graves Avenue & Community Drive (Lone Tree Village | 2:28, 3:28, 4:28 p.m. |
| Downtown / Estes Valley Library (SW Corner of Bond Park  | 2:40, 3:40, 4:40 p.m. |
| National Park Village (Country Market) | 2:46, 3:46, 4:46 p.m. |
| Lower Stanley Village @ Reel Mountain Theater | 2:52, 3:52, 4:52 p.m. |
Estes Transit takes the health and safety of our riders and drivers very seriously. In line with the State of Colorado's guidance for transportation providers (released Nov. 2, 2020), this service will operate at 50% of seated capacity (or a maximum of 13 total passengers). Face coverings are required on board for passengers and drivers, including children over the age of two. Please do not ride Estes Transit if you are sick, have tested positive for COVID-19, or you think or know that you have been exposed to COVID-19.
Service is weather-permitting. If the Town experiences a significant snow event that makes the roadways unpassable or unsafe, the service will not run as scheduled. If the service is canceled due to weather, the service will be automatically moved to the following day (Thursday) and will run the same schedule. If service is canceled and/or moved to a Thursday, that information will be posted here and on the Town of Estes Park's Facebook page. Questions about the new service can be directed to the Town's Parking & Transit Manager, Vanessa Solesbee (vsolesbee@estes.org or 970-577-3957).
The 2020 summer service season concluded on Sunday, October 18. Information about summer 2021 service will be shared in February, 2021.
2020/2021 Winter Shuttle Service Map
Thank you to our generous 2020 sponsors:
Estes Park Health, Good Samaritan, The Barrel, Quality Inn, The Maxwell Inn, Rocky Mountain Gateway, Estes Park Museum, Mountain Home Cafe, Pepper's Mexican Grill, Remax, SereniTea, Estes Park Trolleys, First Colorado Realty, EP News, Hunters Chop House, Best Western PLUS Silver Saddle, Visit Estes Park, Estes Area Lodging Association, EPTV Channel 8, Estes Park Events Complex, O'Connor Pavillion
The Town's free parking structure is located near the intersection of US Hwy 34 and US Hwy 36 (691 N. St. Vrain Avenue) across the river from the Estes Park Visitor Center, only a few blocks from downtown.
The parking structure has over 400 parking spaces on four levels, including accessible spaces and electric vehicle charging stations. Downtown is an easy five-minute walk through a decorated and lighted tunnel under the road, or via the Town's charming red trolley which stops right at the north side of the parking structure during the busy summer months (July 1 - October 4, 2020).
New in 2020: The parking structure is now the hub for all of the Town's five seasonal shuttle routes. Service dates and times are listed above.
Overflow parking is available at the Estes Park Events Complex (1125 Manford Ave.), which is served every 15 minutes by the Green Route.