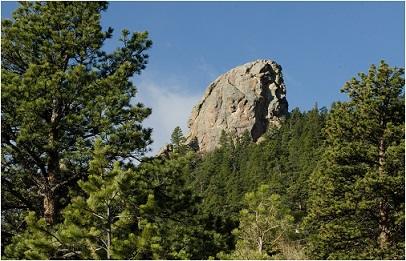 The Thumb Open Space is currently on private property. Please respect private property owners in the area by not trespassing. Until a land management plan is in place, there is only a 1/2-mile section of deeded trail. The trail does not travel to the top. If the 1/2-mile stretch is passed, users would be trespassing on private property. Please reference, and adhere to, the signage placed.
Since the 1940s, the Thumb and Needle, two iconic rock features have been a favorite rock climbing and hiking destination. It is considered a great area for children to safely learn rock climbing skills. Over the years, social trails, or informal biking and walking trails have been developed on the property.
On April 28, 2020, the Town Board of Trustees accepted a GOCO grant award to help the Town purchase the property. The Parks Division will proceed with GOCO's tasks to complete the purchase carefully following due diligence checklist. It is anticipated that the purchase will be completed in 2020.
A purchase of this property would not be possible without the help of a grant from Great Outdoors Colorado (GOCO) and partnerships with the Estes Valley Land Trust, The Access Fund (Boulder), and the Rocky Mountain Conservancy. The Town believes that under its ownership this area will be better maintained, reducing some of the issues that have concerned the nearby property owners. The climbing community is interested in being good stewards of this area to further ensure improvements and maintenance with the trail system and parking.
An open space management plan will be developed with significant input from adjacent and nearby property owners as well as the climbing community. This management plan will outline use of the area with controls to preserve this open space and natural environment.