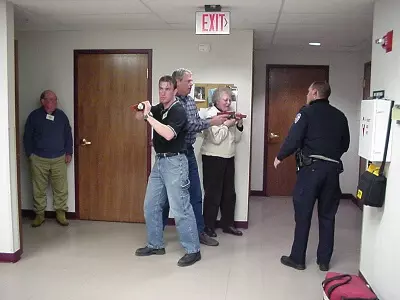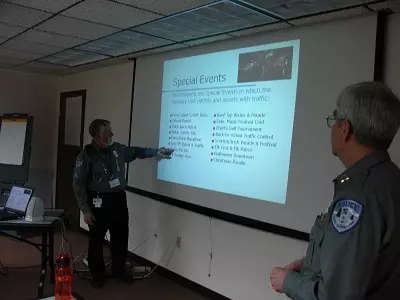 #FFFFFF
Go behind the scene with the Citizen's Police Academy
Anyone who has ever wondered what it's like behind the scenes at the Estes Park Police Department can find out by attending a Citizen's Police Academy. This informative series of classes is sponsored by the Town's Police Department and offered free of charge every other year. The last Citizen's Police Academy took place in spring 2022.
Citizen's Police Academy familiarizes participants with everything from constitutional law to crime scene investigation. The classes include topics that are common among law enforcement agencies, as well as issues that are unique to Estes Park. Following graduation many academy graduates choose to continue involvement with the Police Department through its volunteer programs, however, a commitment to future volunteering is not required. Class size is limited to 30. 
The Citizens Police Academy, established in 1997, was developed to enhance the partnership between community members and the Estes Park Police Department. The Academy is ideal for individuals interested in the day-to-day functions of police work. For additional information, contact Captain Rick Life at 970-577-3872 or rlife@estes.org.
#FFFFFF
The Estes Park Police Auxiliary seek individuals to fill vacancies. Auxiliary Police serve as volunteer "eyes and ears," performing a variety of tasks, including vehicle and pedestrian traffic control, investigations, fingerprinting, and administrative services. Candidates must complete the Citizen's Police Academy and 20 hours of Police Auxiliary training. For more information about Estes Park Police Auxiliary, contact Captain Rick Life at 970-577-3872 or rlife@estes.org, or visit the Auxiliary webpage.