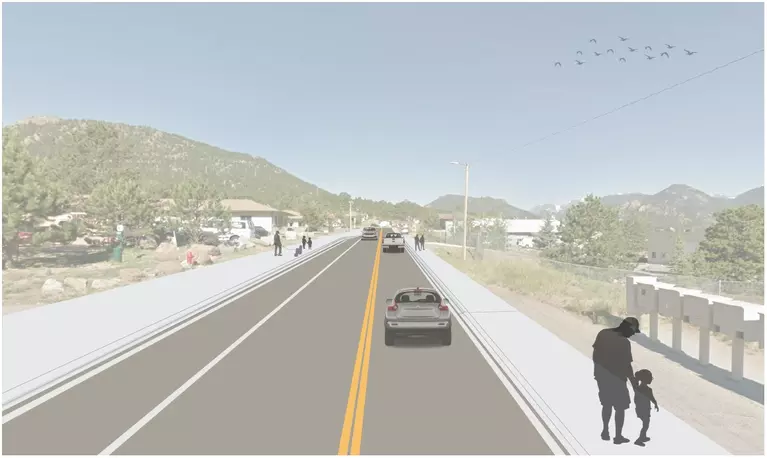 The Town of Estes Park is happy to share that the design for the Graves Avenue Safe Routes to School project has reached a 90 percent complete stage. Links to the design plans are provided below; documents and an updated project schedule are also available through the consultant's website at graves-ave-srts.com. Public Works is working through final design and easement acquisition. The construction dates will be determined after project clearances are gained through CDOT.
Public engagement for the project resulted in feedback that shaped the overall design. In particular, the selected design incorporates sidewalks along both sides of Graves Avenue, increasing ease and safety for pedestrians. The project design still maintains some on-street parking spaces. 
#FFFFFF
The Town of Estes Park was awarded Safe Routes to School (SRTS) funding via the Federal Highway Administration (FHWA) through the Colorado Department of Transportation (CDOT). The SRTS program's purpose is to enable and encourage children to walk, bike, and roll to and from school by making routes safer, and encouraging healthy and active lifestyles. Graves Avenue was identified as a top priority for SRTS improvements given its close proximity to the school district, its high volume of student and parent pedestrian traffic, and its lack of continuous sidewalk pavement.
The Town of Estes Park's Graves Avenue Sidewalk project will include the construction of a continuous sidewalk on one or both sides of Graves Avenue, plus a sidewalk connector from the Brodie Avenue sidewalk to the Elementary School's parking lot crosswalk.  The improvements along Graves Avenue and the Brodie Avenue Sidewalk Connector will increase safety and accessibility in the area, and will also provide connectivity with the neighborhood housing near Graves Avenue, the Estes Park School District, and the Estes Valley Community Center.
The Town of Estes Park has contracted with Sanderson Stewart of Fort Collins, Colorado, to provide design and engineering services for this project. Sanderson Stewart will be involved in performing public outreach to understand the needs of the community at this location, and they will develop conceptual design alternatives for public consideration, before finalizing the design for construction.