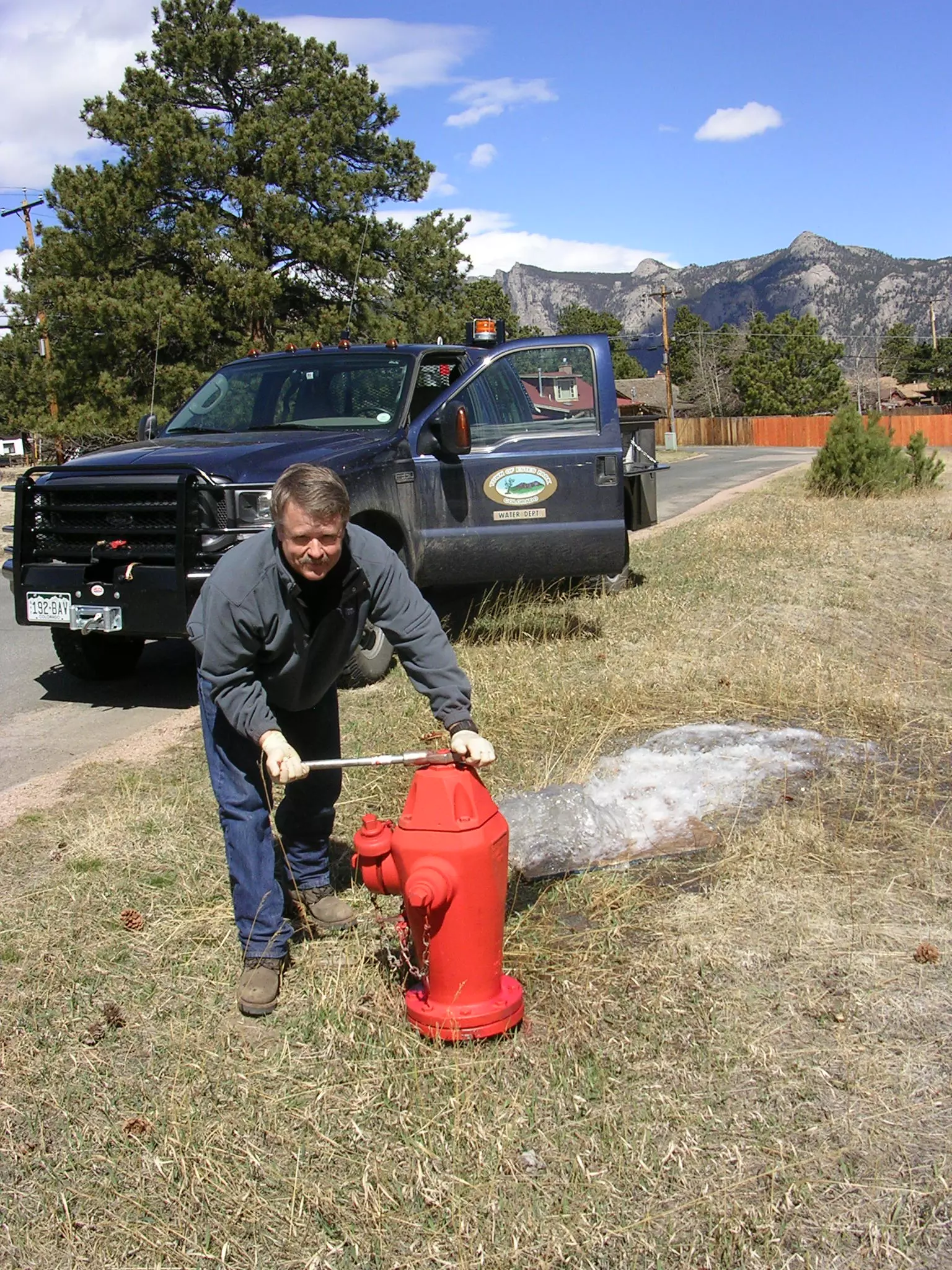 The Town of Estes Park Water Division conducts an annual water main flushing program in the Spring. Flushing improves water quality and clarity by creating a higher than normal flow through the distribution system. This flow helps to clear the pipes of the iron oxide buildup resulting from the corrosion of older steel pipes. Water customers may notice discoloration of their water for a short period of time. The water main flush is conducted by pulling large volumes of water through fire hydrants. This also gives the Water Division the opportunity to inspect all fire hydrants in the system to ensure they are in working order and make any necessary repairs.
The rusty-looking water can leave iron stains on clothing and while not aesthetically pleasing, it is safe to use. The best solution for customers is to avoid using water, particularly hot water, when crews are flushing in the area. If rusty water is drawn, cold water should be run for 15 to 20 minutes, or until the water clears. If the water does not clear in that time, water should be shut off for about 30 minutes before the process is repeated. If there is yellowish discoloration present in hot water, the water heater should be drained and flushed. Many manufacturers recommend this be done as annual preventative maintenance. Check the owner's manual for instructions on how to perform this procedure.
The 2022 Water Main Flush will begin on May 2. The tentative schedule is as follows:
May 2 Marys Lake Road, Griffith Court, Strong Avenue, Little Prospect Mountain Road, Silver Tree Lane
May 3 Highway 66 to Marys Lake Road, Upper Broadview, Eagle Cliff Road, Heinz Parkway, High Drive, Meadow Circle
May 4 Moraine Avenue to Elm Road, Old Ranger Road, Old Man Mountain Lane, Fall River Lane
May 5 Moraine Avenue to Park River Place, Moreau Lane, Cedar Ridge Circle, Range View Road
May 6 Fall River Road to Sierra Sage Lane, Sleepy Hollow Court, Homestead Lane, Summerset
May 9 Riverside Drive to Stanley Avenue, Ouray Drive, Prospect Avenue, Moccasin Saddle, Driftwood Avenue, Columbine Avenue, Birch Avenue, High Street, Meadow Lane, Hondius Circle, Cyteworth Road
May 10 West Riverside Drive to Prospect Village Drive, Pine River Court, Pine River Lane, Audubon Drive
May 11 Moccasin Street to Stanley Avenue, Highland Lane, Hospital area, Comanche Street, Dunraven Street
May 12 Fawn Lane, Ponderosa Drive, Morgan Street, Bailey Lane, Landers Street, University Drive, Elk Ridge Court
May 13 Prospect Mountain Road to the west side of Highway 7, Lexington Lane, Concord Lane, Village Green Lane, Elk Meadow Court, Elk Hollow Court, Pine Knoll Drive, Woodland Court, Tranquil Lane, Pinewood Drive, Pinewood Lane, Dekker Circle, Axminster Lane , Twin Drive, Longs Drive
May 16 East Highway 7 to Scott Avenue, Graves Avenue, Woodstock Drive, Stanley Park, Manford Avenue
May 17 Stanley Park, Fairgrounds, Community Drive, Eagle Lane, Par Lane, Matthew Circle, Halbach Lane, Wapiti Circle, Estes Park Schools area, Sketch Box Lane
May 18 Fish Creek Road, Mall Road, Avalon Drive, Clover Lane, Brook Court, Country Club Drive, Holiday Lane, Fairway Club Circle, Acacia Drive
May 19 Uplands Circle, Scott Avenue, Larkspur Avenue, Carriage Drive, Longview Drive,  Whispering Pines Drive
May 20 Moccasin Street, Moraine Avenue, Riverside Drive,  Rockwell Drive, Cleave Street, Fall River Village, Spruce Drive, Big Horn Drive
May 23 Elkhorn Avenue, Valley Road, Marigold Lane, Wonderview Avenue to Highway 34
May 24 Big Horn Drive, Chapin Lane, Evergreen Lane, Granite Lane, Chiquita Lane, Virginia Drive, West Elkhorn Avenue, Far View Lane, James Street
May 25 MacGregor Avenue, Devils Gulch Road, McCreery Lane
May 26 Overlook Court, Overlook Lane, Stanley Hotel area, Steamer Drive, Black Canyon Drive, Prospector Lane, Homesteader Lane, Pioneer Lane
May 27 Stanley Village area, Highway 34 to Olympus Lodge, Summit Drive, Dry Gulch Road, Bellevue Drive
May 31 North Lane, South Lane, East Lane, West Lane, Panorama Circle, Summit Drive, Pine Lane, Grand Estates Drive, Lakefront Street, Skyline Drive, Estes Park Resort area
Jun. 1 Elk Trail Court, Deer Path Court, Raven Circle, Lone Pine Drive
Jun. 2 Ptarmigan Trail, Soaring Circle, Red Tail Hawk Drive, Crabapple Lane, Gray Hawk Court
Jun. 3 Marys Lake Lodge area, Carriage Hills, Rockwood area
Jun. 6 Little Valley, South Fish Creek Road, Chalet Ridge Court
Jun. 7 Arapaho Road, Grey Fox Drive, Ute Court, Ute Lane, Shadow Mountain Court, Green Pine Court, Cherokee Drive, Cherokee Court, Pawnee Drive, Pawnee Lane, Indian Trail, Bristlecone Court
Jun. 8 Prospect Estates Drive, Steele Court, Marcus Lane, Curry Drive, Darcy Drive , Peak View Drive
Jun. 9 Fall River Estates, Fish Hatchery, David Drive
Jun. 10 Thunder Mountain
Jun. 13 Kiowa Pump House and Tank Area
Please contact Brenda Wyss, Administrative Assistant for the Water Division, at 970-577-3619 or bwyss@estes.org with questions.