In 2018, the Downtown Plan ("DP") was adopted by the Town. Included in the DP were recommendations for improving wayfinding signage to parking and transit facilities. Currently inconsistent and aged, the downtown signage needs an overhaul to communicate more effectively in guiding visitors. Successful implementation of paid parking in 2021 depends on clear communication to motorists regarding the locations of both paid and free opportunities. A comprehensive overhaul of the downtown guidance and destination signage has been developed and is detailed in the Parking Pilot Project booklet. This project is being identified as a pilot program due to the use of a shorter life-span and lower cost materials for three reasons: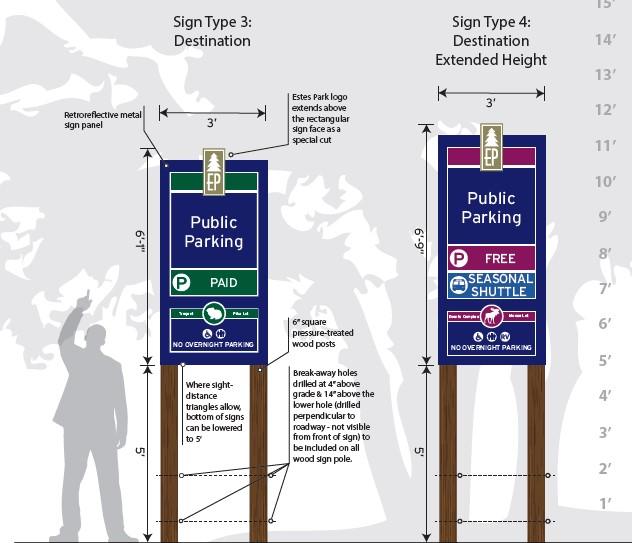 1. The need to achieve construction expediency in order to complete the installation in the short good-weather window between winter and the May 21 startup of paid parking.
2. The number and size of motorist-scale signs is large and visually impactful. While Public Works feels the design proposal is appropriate, the community may feel differently, and the public review and comment will be on a full-scale installation rather than attempting to gather meaningful comments from printed graphic images.
3. Should the community reject paid parking after the inaugural year, the investment in necessary guidance and destination signage needs to be kept to an aesthetic but functional minimum. 
Public Works welcomes feedback about this project via email at publicworks@estes.org or by calling 970-577-3587.